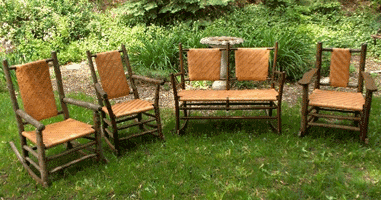 Hand Cane
Using premium quality cane, each strand is woven through holes in the perimeter of the seat (or back) to create the distinctive Six Step design. We charge by the hole for hand caning, just count the holes and give us a call.
Splint Seat Weaving
Splint normally is made of ash but occasionally is made of other woods. Splint is similar in its use to wide binding cane but it is much wider – up to one inch. It is woven onto the seat or back in a herringbone or criss-cross pattern. After weaving it is often stained and coated with polyurethane. The width of the chair determines the cost of service; so the larger the seat, the greater the cost.
Wide Binding Cane
Wide Binding cane can be used in both an open and closed weave. This material is very beautiful it shows off the natural characteristics of the cane. Pricing will vary depending upon the weave.
Fiber Rush Seats
Fiber rush seats are woven around the rungs of a chair. A coat of polyurethane is put on for added protection and durability. As with a splint seat, the cost of service is determined by the width of the seat. Also Hitchcock chairs with wood trim will have an additional charge to remove and replace the trim. Some bow back chairs need to be disassembled to re-rush the seats then reassembled incurring additional costs.